About
About
Westside Surgical Hospital & Breast Center is a multi-specialty surgical hospital created to serve all people through exemplary healthcare, education and community service. Our mission is to provide the highest quality services in a safe, welcoming and comfortable environment. The hospital is conveniently located in central Houston close to the Southwest Freeway and Weslayan Street.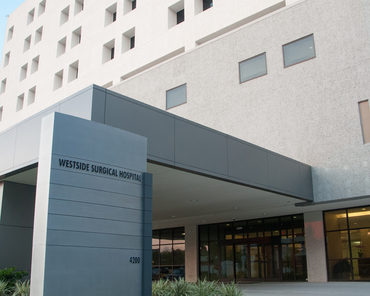 With 12 overnight beds and six operating rooms, Westside Surgical Hospital & Breast Center is equipped to perform a wide range of inpatient and outpatient procedures and specializes in breast, orthopedic and spine surgery, among a wide range of surgical and diagnostic offerings.
Our thoughtfully designed facility offers the most advanced setting for surgery in the Houston area, with the patient's care and comfort as our first priority. In a welcoming environment, our friendly, professional staff anticipates each patient's needs to ensure that his or her stay is positive from beginning to end. Modern accommodations, concierge services and guest amenities make patients feel at home.
We have been able to create our uniquely patient-centered environment by partnering with the most talented physicians, medical and hospital staff in the area. Many of our physicians have selected to have ownership in the hospital. Their involvement helps to ensure the highest standard of care for our patients.
Westside Surgical Hospital & Breast Center Facts:
Opened in 2013
Physician-owned hospital
Annually performs more than 4,500 procedures
Six large operating rooms and two procedure rooms
Six private post-surgical care rooms
12 luxury inpatient rooms with meal service
Specialties include breast reconstruction, cardiology, ear, nose and throat surgery, gastroenterology, orthopedic and spine surgery, pain management and plastic surgery
Top 5 percent in Patient Satisfaction*
Imaging services and Emergency Room
Affiliation with Baylor College of Medicine (BCM)
*As determined by Press Ganey for inpatient services.